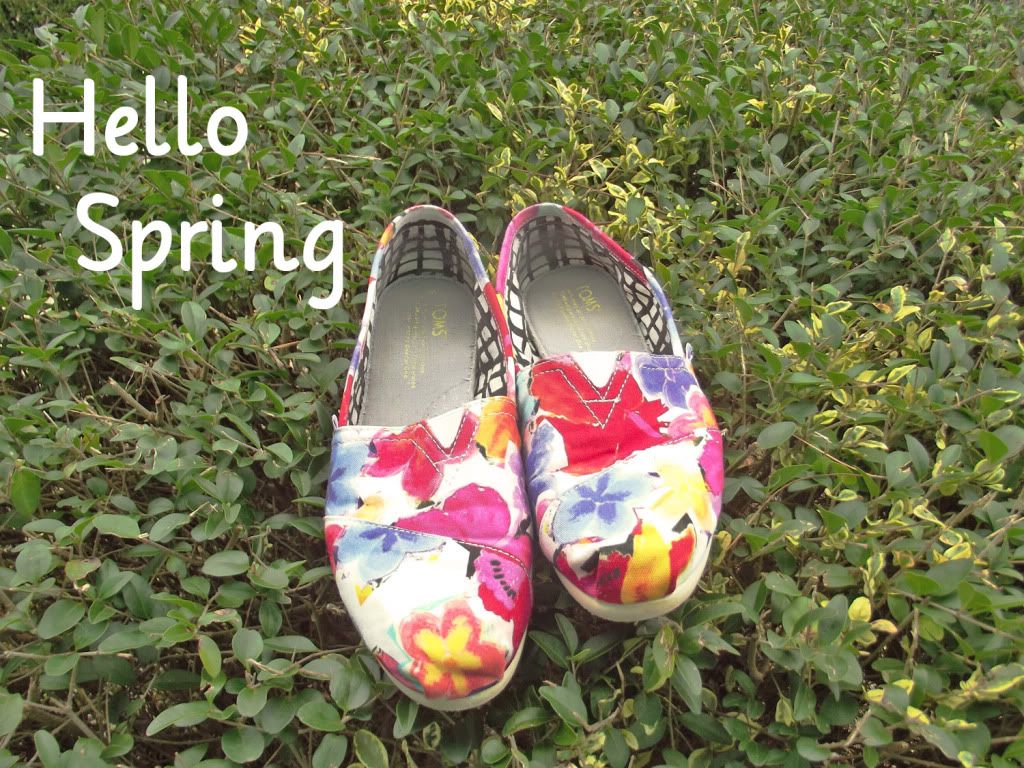 Tomorrow, Monday, January 23, I will finally be putting up the pre-spring collection from TOMS. During our big winter sale over the weekend, I resisted the temptation of putting them on the wall because I didn't want to confuse anyone into thinking they were on sale versus for sale.
But, what I could not resist was slipping a pair of the Corbel Classics on and prancing around in them during the sale. Thank you for the compliments, by the way. The Corbel is one of two shoes that will be up tomorrow. The other is called Let Love Rule and was part of a Spring collaboration between TOMS and Lenny Kravitz, of whom gives anything an instant cool factor.
Let Love Rule is a graphite grey with a smokey gray and pink cursive writing of Let Love Rule all over the shoe. This was a late edition to the collection and I did not get to see it back in the fall when I got a sneak peek of the spring collection. I knew Lenny Kravitz had worked with them for this particular collection, but I didn't know exactly what the last love child of awesome would entail. I was so not disappointed. Plus, it fits into February's non-holiday of Valentine's Day perfectly. Sorry, if the mail still runs, it's not a holiday.
When I opened the box to Corbel, I couldn't help but smile. I had seen this white canvas with multicolored flowers back in the fall, but I had seemed to of forgotten how vibrant the colors were. In my mind, I had diluted them into more of a watercolor, abstract look, versus the detailed brightness you see above.
I had to wear them.
I have serious issues with patience and it was just too pretty to put back in that sad cardboard box and pretend they weren't there. That just felt too wrong. So, on they went.
The entire spring collection was built on the new platform TOMS is using to try and make all their shoes more uniform. As you know, they are notorious for not fitting true, not even within collections. For those of you who bought any of the Sequin Slipons during the holiday collection, do you remember me telling you they fit a full size bigger than, say, the Ash Classic? These are the same way. I generally, on average, wear an 8.5 in TOMS. I do vary between a 7 and 9, which is a wide range in one brand of shoes. I wear a 7.5 with in the new platform. Some go down a full size, some only a half. So make sure you try them on. But they're so pretty, I don't think you'll mind.
I could help but grin and giggle and think of all things springy whenever I looked down and saw them. Factor in we've had a dismally warm winter and my poor brain went into spring madness. Not that I was complaining. Spring is my second favorite season after fall. Maybe because it's so fleeting in our fickle Mississippi weather. Here are my top ten brain tickles induced from the Corbel and its happy colors: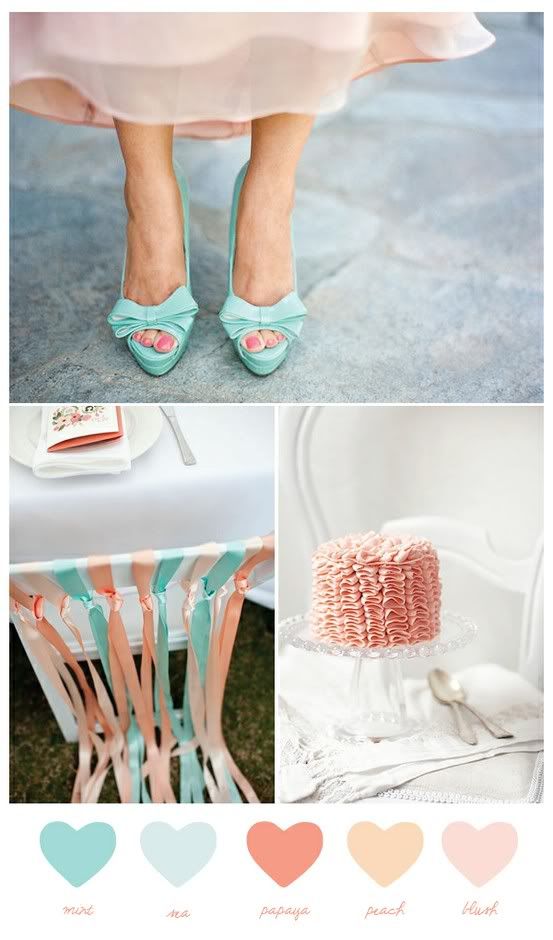 1) Pastel Colors. Especially mint and blush. (image via thesweetestoccasion.com)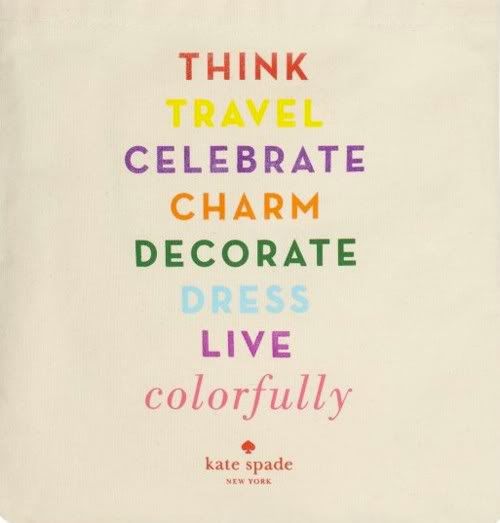 2. Kate Spade's motto of 'Live Colorfully.' (Image via Kate Spade)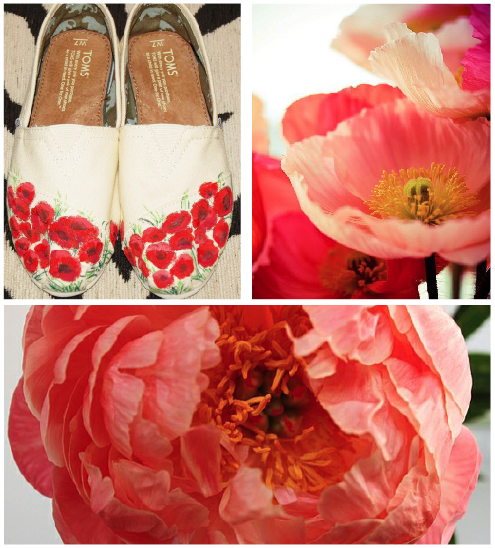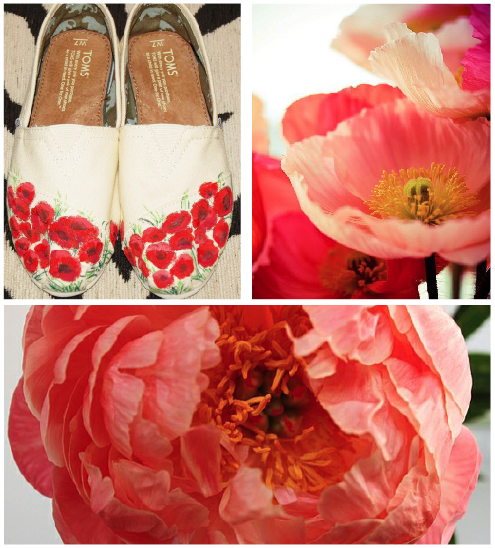 3. Poppies and Peonies in pretty colors. (images via sundayinbed.tumblr, pearsonsflorist.blogspot and esty)
4. Blue skies and free time. (image via designworklife.com)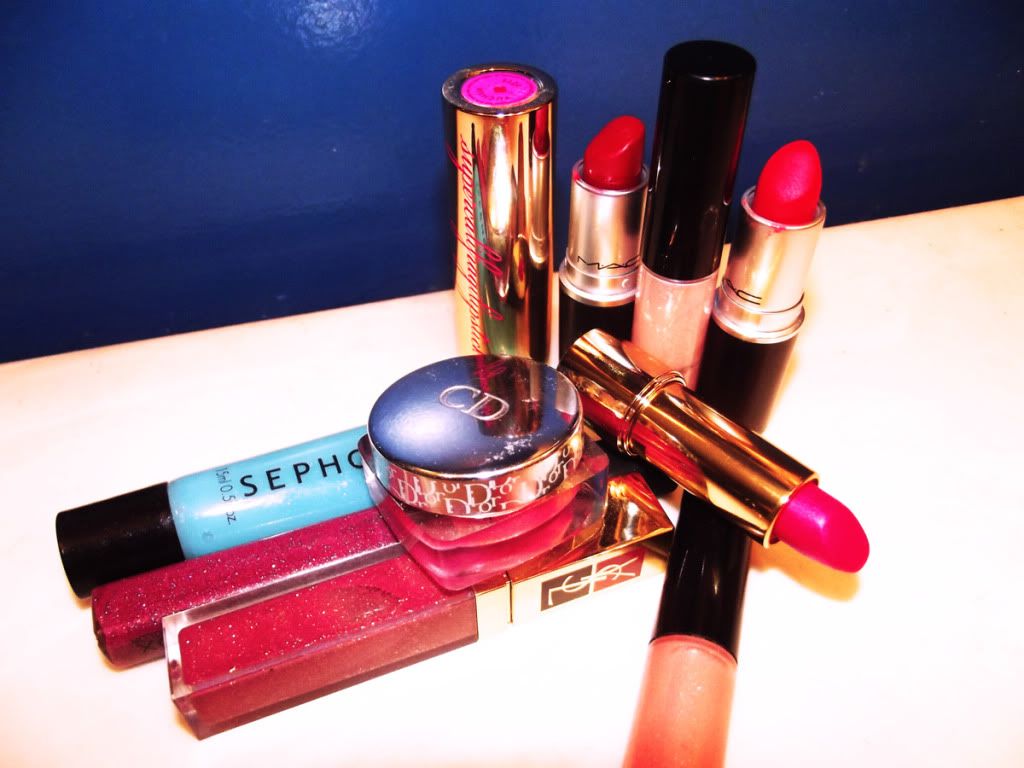 5. Trading my lipsticks for lip glosses.

6. New Spring dresses
7. Getting organized after a sloppy winter. Though I can only dream my closet would be this neat.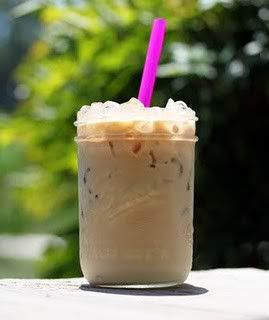 8. Iced vanilla lattes. (Image via cravingcomfort.blogspot.com)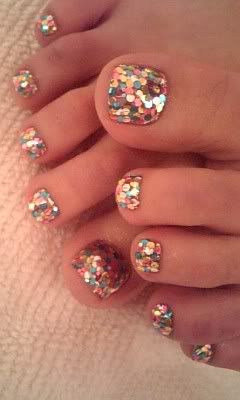 9. Pedicures after ignoring them all winter. The more glitter the better! (image via hewanderingartist.tumblr)
10. Wedding season. Look at those colorful tights! (image via abeautifulmess)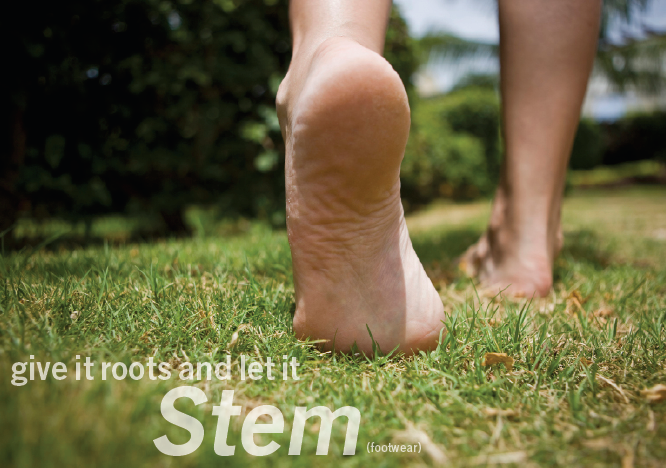 Traditional exercising seems to have gotten a bit of a caveman makeover. Instead of reaching for standard running shoes, tennis shoes or, heaven forbid, shape-up shoes, more and more people are going au natural with the emergence of the barefoot running craze.
Barefoot running is exactly as it sounds: running barefoot. Before industrialization it was the 'it' thing. Everybody did it because shoes were more for social situations and not for exercise, play or lounging around. Kind of like when we were kids. I know I would have rather been barefoot instead of wearing shoes. Our feet could handle the rocks, dirt and asphalt much better than they do as we grow and humor mom by wearing shoes everywhere, thus making our feet more sensitive to sensations.
Even with Barefoot Running making a comeback in modern times, it's kind of hard to take on the idea of running without protection on our dear footsies; unless you're super hardcore. For those of us who aren't that hardcore, there are special minimalist shoes made especially for barefoot running. You've probably seen the more popular version of this with the 'Five Finger Shoes.' You know, the shoes that look like toe socks but are made of rubber. They're great for running barefoot, but not so much anywhere else, thus limiting your investment in the shoe.
Which brings me to our latest find: Stem Footwear.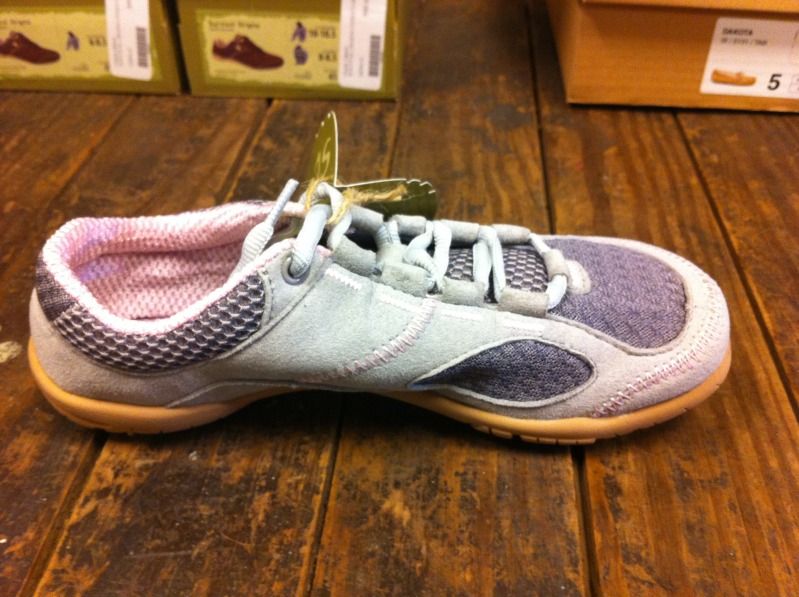 Stem Footwear is a company in the business of barefoot running and minimalist shoes. They're super lightweight and flexible. You can fold these things up and put them in your pocket if you wanted to. When we got them in, I tried them on and was amazed at how light it felt. I could feel the ground under me, but not in an uncomfortable manner. I could also feel the air in them when I moved around. Can your sneakers provide you with a little air conditioning? Didn't think so. While I didn't run in them, I would imagine this would help reduce the sweaty, stinky foot syndrome other shoes create while doing any activity.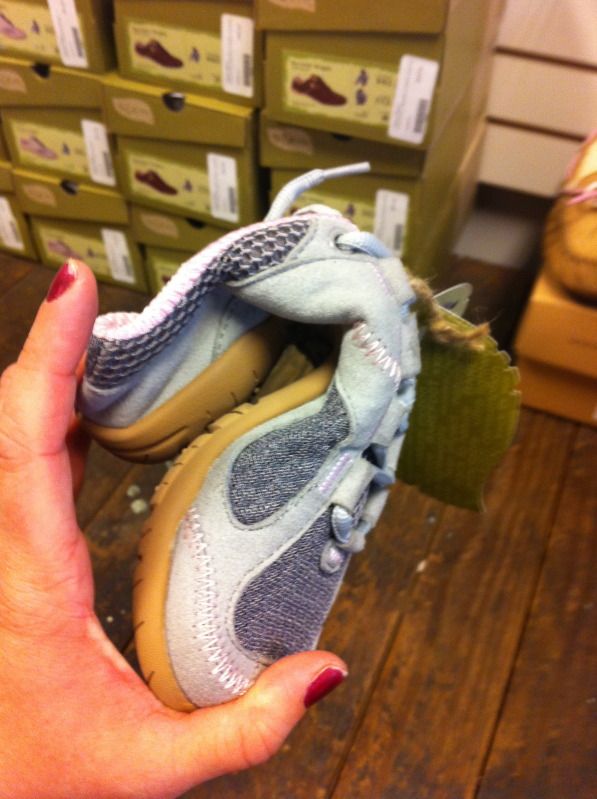 That in itself, is a major super cool factor, no matter what kind of shoe it is.
The biggest plus, for me, was the fact that they didn't look like Barefoot Running shoes. They looked more like fashionable sneakers with their suede and contrasting colors and laces. Which makes them way more appropriate to wear while running errands than a Five Finger shoe. Even long toed friends like me can wear them without the cramping I felt when I tried a Five Finger shoe on.
They are available for men and women with larger women sizes becoming androgynous and available for men as well. While there are a lot of styles to chose from, we are currently carrying three. One and a half each for men and women (one style being co-ed, making the halves).
So, if you've been curious about Barefoot Running but didn't want to actual run barefoot or were a little skeeved at the idea a foot glove, or just want a lightweight shoe to do errands in, give Stem a try. Try them on and you'll feel what I've said. And I bet you won't want to take them off.
I am not endorsed by any shoe company. All of the above is merely opinion and nothing else.  
Over the weekend I took a little detour over to Atlanta for a little event called the Atlanta Shoe Market. I've been to Atlanta many, many times over the course of my life, due to the fact that a hunk of my family tree is over there, but I've never had to be there for a work related event. So, needless to say it was a little hectic. Especially the whole waking up earlier than I deemed worthy to catch a flight. I will say my Chaco Z2s did a fantastic job taking care of my feet as I frantically hiked across airports to my gates.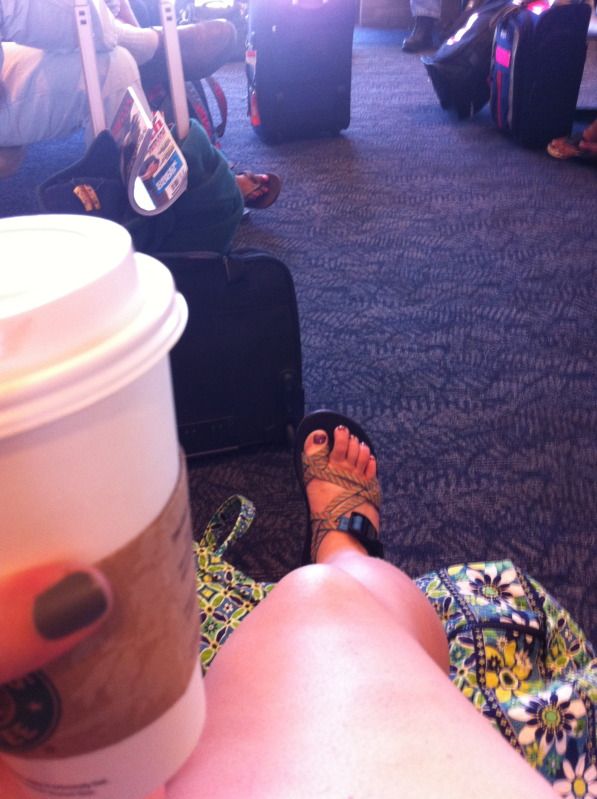 I used to not be a big fan of Chaco, but after this trip I may have changed my mind. They're easy to get on and off during security, which is a huge plus when you're running a tad late and still needed to catch the rail to get to the other side of the airport. 
Anypoo, I was completely overwhelmed at the sight of every major shoe vendor crammed into one convention center/hotel. Now, I can't really show you the photos I took, but I can say that after the weekend of looking and touching the spring lines of some of our favorite shoe brands, like TOMS, Sperrys and Sanuk, and even a sneak peek of what's new with Kavu, I know you won't be disappointed come January. 
Oh, and I actually got airplane peanuts on this flight. I've never had that pleasure before. In fact, I wasn't sure they did it anymore!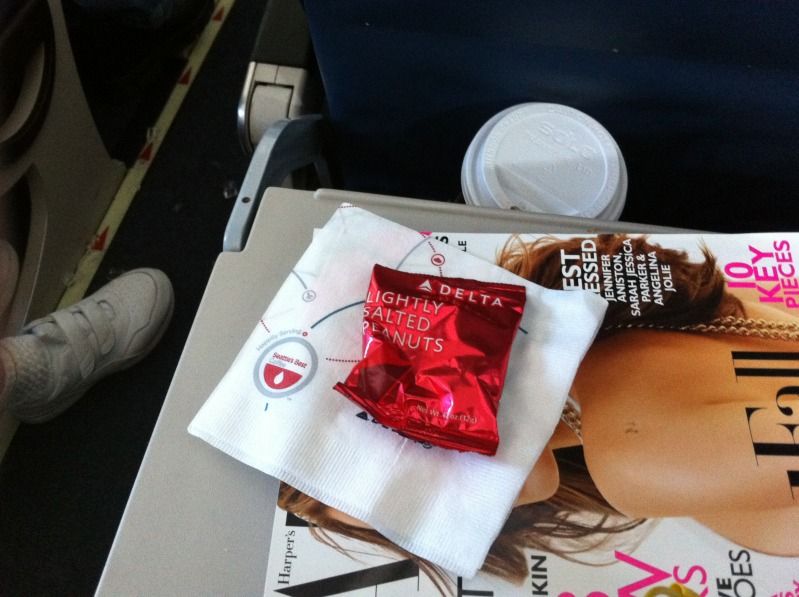 TOMS are the perfect little shoe to, what I call, throw-and-go. Slip 'em on and head out the door, no problem! That's why it is so easy to have TOMS take me anywhere. This time I wore my Gold Glitters out to the movies a few weeks ago to see 'Bridesmaids' (Ha-larious, btw, if you haven't seen it!).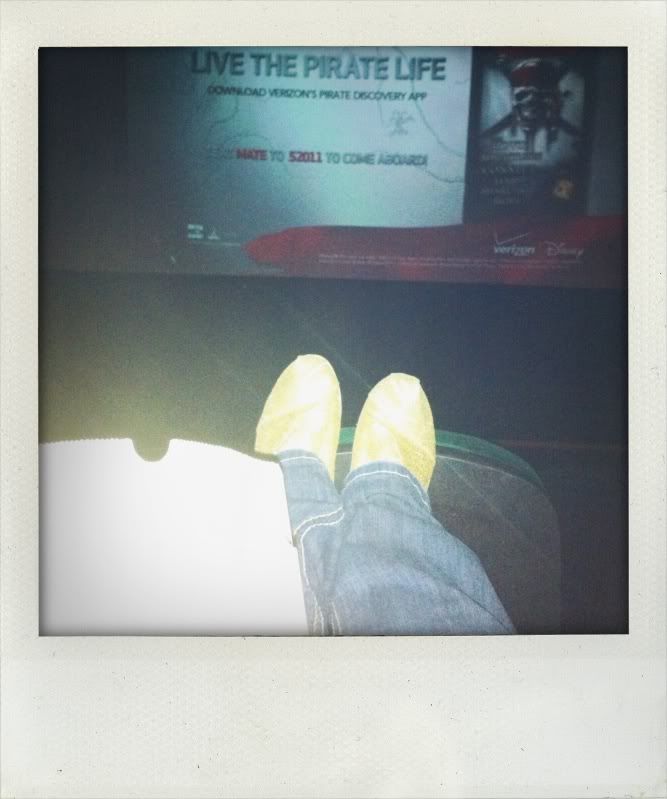 Where have your TOMS taken you? Send me a photo and a blurb to claudestomsmission@gmail.com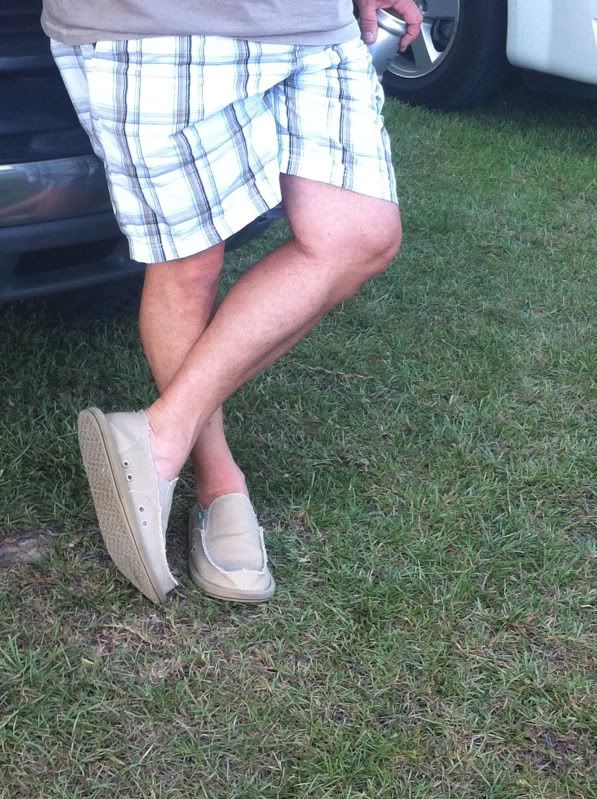 A relative of mine was wearing some Sanuk sandals, not shoes, at our family reunion over the weekend. I noticed and had to take a photo. I knew men were fans of this particular style of shoe, but I thought they were wearing them in their secret man-caves as I had never seen a pair on a guy in public. 
But now I have. 
Sight a Sanuk? Send me a pic and a short caption at claudestomsmission@gmail.com